You could win this rare and priceless book with the autographs of 41 movie stars and personalities of the Golden Era of Hollywood
The Venerable Father Patrick Peyton is on the path to be named a saint for his years of service  and his unwavering faith in prayer
Marvel at the autographs of the 41 Hollywood personalities who signed this book by Father Patrick Peyton soon to be made a saint
This book is in good condition. There are no torn pages. It is a hardcover book. The spine is intact. There is no water damage. The gray shading shown here are in large part an effect of copying the pages on a copier. There is a slight browning on some pages which is common in books printed in the 1950s.
Most autographs are in ink, a couple in pencil. All are crystal clear and readable.
Top to Bottom 11: Roddy McDowall, Robert Ryan, Jeanne Cagney, Rita Johnson, Jeanne Gray, Joe Mansfield, Jane del Amo Randolph, Ricardo Montalban, Marissa O'Brien, Maria Palmer, Maria Bohan
Top to Bottom 9: J. Carrol Naish, Louella U. Parsons, Edmund Gwenn, Irenne Dunne, Betty Lynn, Donald O'Connor, John Lombardi, Estelle Taylor, Ray Hyke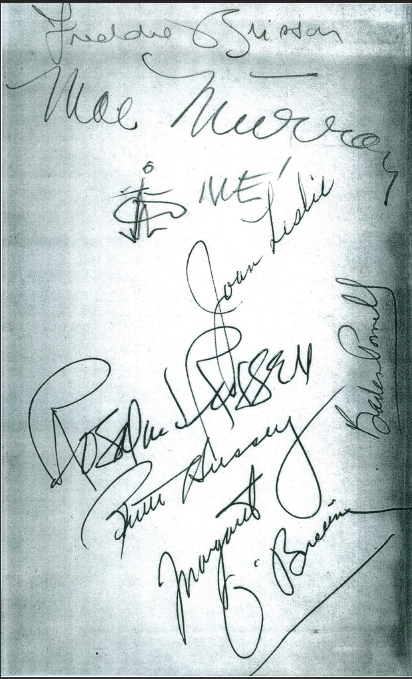 Top to Bottom 7: Freddie Brisson, Mae Murray, Joan Leslie, Rosalind Russell, Ruth Hussey, Baden Powell, Margaret O'Brien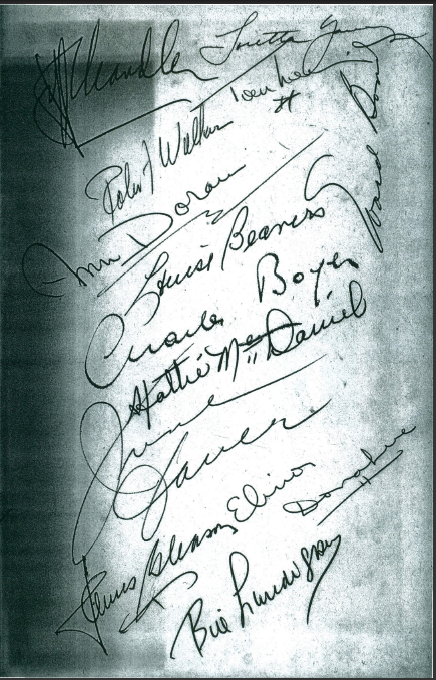 Top to Bottom 13: Loretta Young, Jeff Chandler, Robert Walker, Thomas (Tom) Hill, Ward Bond, Ann Doran, Louise Beavers, Charles Boyer, Hattie McDaniel, Elinor Donahue, June Haver,  James Gleason, William (Bill) Lundigan
Facts about a few of the personalities who signed The Ear of God
Irene Dunne was nominated five times for the Academy Award for Best Actress. Loretta Young, Irene Dunne and Rosalind Russell were ardent Catholic supporters of Father Peyton.
Loretta Young, Hattie McDaniel, Edmund Gwenn, and Margaret O'Brien won Academy Awards. Hattie McDaniel was the first black actor to win. She played Mammy in Gone with the Wind. Edmund Gwenn is the only actor to ever win for playing Santa Claus. He won for his role as Kris Kringle in Miracle on 34th Street. Margaret O'Brien was eight years old when she won a Juvenile Oscar Award for her role in Meet Me in St. Louis. Loretta Young won for her part in The Farmer's Daughter.
Baden Powell is widely regarded as the greatest Brazilian guitarist of all time. Although never an Academy Award winner, Rosalind Russell won five Golden Globes awards. Rosalind Russell married producer Freddie Brisson and they were married for 35 years until her death in 1976. Ann Doran played James Dean's dominating mother in the iconic Rebel Without a Cause and appeared in more than five hundred motion pictures and on a thousand episodes of television shows. Louise Beavers was one of four other beloved black actresses including Academy Award winner Hattie McDaniel who portrayed housekeeper Beulah on the Beulah TV show.
Elinor Donahue played Robert Young's daughter in Father Knows Best. Betty Lynn is best known for playing Thelma Lou, Barney Fife's girlfriend, on The Andy Griffith Show. The star of Wagon Train, a popular television series, Ward Bond appeared in more than 200 movies, and he was in eleven films nominated for the Academy Award for Best Picture including Gone with the Wind, The Grapes of Wrath, The Maltese Falcon, Sergeant York, and It's a Wonderful Life.
Mae Murray was a popular actress, dancer, film producer, and screenwriter. Murray rose to fame during the silent film era but also worked in the talkies. She always cheerfully signed her autograph with her name and a fluid Picasso-like drawing of a dancing girl.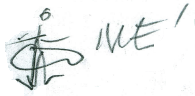 Donald O'Connor was an actor, dancer and singer. His most famous performances were with Gene Kelly in Singing in the Rain, and he starred with "Francis" in Francis the Talking Mule in 1949. He worked opposite Bing Crosby in Sing, You Sinners. Unfortunately, O'Connor missed out playing in many starring roles because he was cast in one Francis film each year for six years until 1955.
Ricardo Montalban was a practicing Catholic who said that religion was the "most important thing" in his life. In 1998, Pope John Paul II named him a Knight of the Order of St. Gregory the Great, the highest honor a Roman Catholic lay person can receive from the Church. He was a working actor for seven decades. He married Georgiana Young the half sister of Loretta Young. They were married for sixty-three years, until she passed away at 83 in 2007. He became famous in his starring role as Mr. Roarke, Fantasy Island. He also starred in Star Trek II: The Wrath of Khan.
Louella U. Parsons was born Jewish but converted to Catholicism. In 1914 she became the first gossip columnist. In 1922 she signed a contract with the New York American, a Hearst newspaper. In 1925, she contracted tuberculosis and was told she had six months to live. She moved to Los Angeles for the change in climate. Soon recovered and went back to work, becoming a syndicated Hollywood columnist for Hearst. Her Los Angeles Examiner column appeared in over six hundred newspapers the world over and had a readership of more than twenty-million. She became one of the most powerful and often feared voices in the movie business with her daily allotment of gossip because it could negatively impact careers and movies. Her funeral in 1972 was attended by a few enduring friends from the movie industry. She is buried in the Holy Cross Cemetery, Culver City, California, the birth place and home of MGM. How famous was Parsons? She has two stars on the Hollywood Walk of Fame.
Charles Boyer was a French actor who appeared in more than 80 films between 1920 and 1976. Although he moved to the United States he always had a heavy French accent. He was a highly praised actor who received four Academy Award nominations for Best Actor.
Jane Randolph grew up in Kokomo, Indiana. Although entirely normal but exceedingly bashful as a youngster Jane decided that to truly live you had to discipline yourself and learn how to do many things well. So while still in school she took up golf and soon developed professional level skills. At the same time she learned how to fly planes. However to pursue her dream of being a movie star in 1939 she moved to Hollywood to build a movie career. She had natural poise and within three years she was a leading lady. Although she acted in stylish Hollywood crime dramas, one of her last movies was the comic thriller Abbott and Costello Meet Frankenstein. In 1949 she married the movie producer Jaime del Amo. She changed her name to Jane del Amo. She retired to Spain where she lived the life of a socialite. In later years she returned to Los Angeles, but also had a home in Switzerland where she passed away on May 4, 2009. She was 93 years old.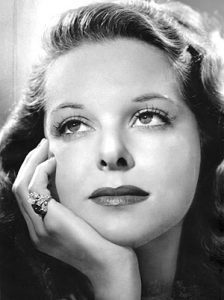 Father Patrick Peyton is a monumental figure in America's religious life whose Catholic cause for sainthood was announced on June 1, 2001. Interestingly, many who knew Father Peyton describe him as holy and glowing. His secretary, said, "His saintliness came across in everything he did."
This book is in good condition. There are no torn pages. It is a hardcover book. The spine is intact. There is no water damage. The gray shading shown on the replicated pages are in large part an effect of copying the pages on a copier. Most autographs are in ink, a couple in pencil. All are crystal clear and readable.
Father Peyton lived a life of prayer and encourages prayer.