Win this rare and priceless book.
The Ear of God was written by Father Patrick Peyton. This priceless copy of the book is autographed by 41 movie stars and Hollywood personalities, and, also, by Father Peyton a saintly American icon who was dedicated to St. Mary and praying the rosary.
Rather than sell this treasure to a wealthy individual or organization soon you will have a chance to win it in a sweepstakes you can enter at no charge. In 2017 Father Peyton was declared Venerable by the Catholic church and, therefore, is on the path to sainthood.
While some autographs of the stars in this precious book have been purchased for thousands of dollars the value of this book is unknown.  All of the autographs are legible and have been verified. The list of the 41 Hollywood movie stars and luminaries who signed this book includes Oscar winners Loretta Young, Hattie McDaniel, Edmund Gwenn, and the Juvenile Oscar Awardee Margaret O'Brien: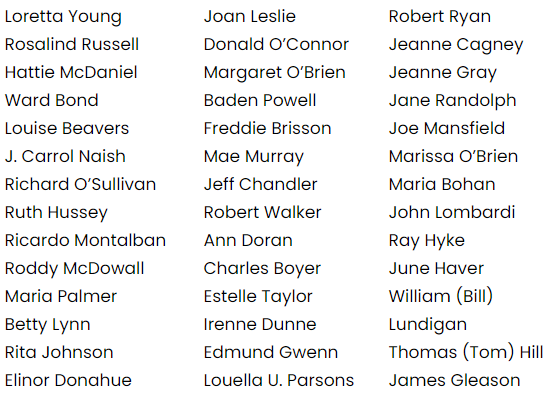 Who collected these autographs and why do they appear in this book?
I don't know who collected these autographs or why they appear in this one-of-a-kind book, but I have some theories. Perhaps this book belonged to someone who could approach all these luminaries and get them to add their signatures in close proximity to other stars. I believe it may have belonged to an MGM Studios executive because I purchased this book about 46 years ago in a small second hand store a block or so away from the entrance of MGM Studios in Culver City, California. At the time MGM changed hands and it may be that the new managers threw out the unclaimed memorabilia of former executives.
Many of the stars who signed The Ear of God worked at MGM and it appears they were happy to sign next to the names of their fellow actors and actresses. And when the pages were filled, the actors flipped the page and signed on the adjacent pages.
Perhaps, most importantly, in his formal Cause of Canonization Father Peyton was declared a Servant of God in 2001, and in 2017 declared Venerable. Father Peyton signed The Ear of God along with dozens of stars. This alone makes this book priceless.
Since the cover page indicates this book was published in 1951, I think these autographs were collected in the early 1950s after the introduction of Father Peyton's inspired work with the radio and television productions of Family Theater, when many of these stars were Hollywood luminaries. This book is rare and priceless and worth more than any of the individual autographs, and, also, more than all the autographs combined because of its historic significance especially now that the declared Servant of God and the declared Venerable Father Patrick Peyton (1909 – 1992) is one step away from beatification and the canonization of Sainthood.
The autographs are there for anyone to inspect. It's clear they are authentic. Also, because of his holy life in proximity to the stars of Hollywood, and his devotion to St Mary and the rosary, I feel that Father Patrick Peyton will be made a saint and this book will dramatically increase in value. This is a one-of-a-kind book. It is in very good condition. Published in 1951. It is nearly 70 years old.
I testify to the best of my knowledge this is an accurate description of the condition of this rare book whose true value is unknown and may be largely in the eye of the beholder who considers it priceless not only because of the dozens of autographs of movie stars and Hollywood personalities it displays but also because of its connection with the Venerable Father Patrick Peyton,
Father Patrick Peyton is a monumental figure in America's religious life whose Catholic cause for sainthood was announced on June 1, 2001. Interestingly, many who knew Father Peyton describe him as holy and glowing. His secretary, said, "His saintliness came across in everything he did."
This book is in good condition. There are no torn pages. It is a hardcover book. The spine is intact. There is no water damage. The gray shading shown on the replicated pages are in large part an effect of copying the pages on a copier. Most autographs are in ink, a couple in pencil. All are crystal clear and readable.
Father Peyton lived a life of prayer and encourages prayer.